Lapad, 2-2.5 km from the Old Town, 10 minutes by bus
If you want to spend your vacations in peace and quiet environment, far from the city crowds, and also to have nearby all you need during your holidays, Lapad is the best choice for you. This part of Dubrovnik is situated 2-2.5 km from the Old Town. Great bus connections (bus number 6 runs every 10 minutes, the ride takes 10-15 minutes, ticket price is just 12,00 kunas / 1,66 euro and it's valid for an hour) makes Lapad one of the most famous parts of Dubrovnik. Lapad is a small center where you have everything: post office, bank, pharmacy, hairdresser, many small shops and supermarkets, one large shopping center (DOC). Also, there is a large beautiful walking area full of cafe bars and restaurants, at the end of which are many gorgeous beaches. In the part of Lapad called Babin Kuk you can enjoy in many sports activities such as volleyball, handball, tennis, and on Lapad there is also cinema Lapad and many restaurants. There is also one of the biggest and most beautiful beaches in Dubrovnik, Copacabana, bay of Lapad, beaches Neptun and President and nudist beach Cava.
Bus and taxi
Traffic in the Old Town (inside the City Walls) is forbidden. As far as traffic outside the City Walls, Dubrovnik is very well covered by taxi service. There are taxi stops on the both sides to the Old Town, at Pile Gate and at Ploče Gate. Phone number of taxi service is 00385 (0)20 970 and it works every day 24 hours a day. It is very useful to know that start of driving is 25,00 kunas (3,33 euro).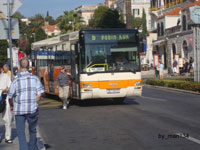 Also, you can use local bus service Libertas. There is bus station on Pile from where almost all bus lines leave for all parts of the city. Ticket price is 12,00 kunas / 1,66 euro and it's valid for an hour. You can buy ticket at any tobacco shop (price 12,00 kuna = 1,66 euro) or in the bus (price is 15,00 kuna = 2,00 euro).
All additional information you can check on www.libertasdubrovnik.com
Bus timetable Dubrovnik town
Relation:                                        Bus number:
Old Town - Lapad               5, 6
Old Town Gruž                  1A, 1B, 3, 8
Old Town - Gorica Sv. Vlaha    2, 4
Gruž - Lapad                   7
Gorica Sv. Vlaha - Lapad       5
Free number for inquiries and complaints: 0800 1910
Dubrovnik Lapad
Croatica rates Dubrovnik
Beaches
5/5
Resort destination
5/5
Resort facilities
5/5
View parts of Dubrovnik
View other places in Dubrovnik area
View Croatia areas