Gruž, only 2 km from the Old Town, 5 minutes by bus
Gruž is part of Dubrovnik which is really popular because there is situated the Port of Dubrovnik, in which comes all the ships which come to Dubrovnik. From Gruž every day many tourists go by boat to the nearby islands of Šipan, Lopud and Koločep. Dubrovnik main Bus Terminal is also situated in Gruz. Gruz has also very good connection with the other parts of Dubrovnik (bus number 7 drives to Lapad, buses number 1A and 1B drive to the Old Town, ticket price is 12,00 kunas / 1,66 euro and it's valid for an hour).
In Gruž you will find many restaurants, cafe bars, pharmacy, large shopping center, many small shops, large trade center Konzum, tourist information center ... In Gruž is also the biggest Dubrovnik open market on which every day you can buy fresh fruit and vegetables and various fresh fish.
Bus and taxi
Traffic in the Old Town (inside the City Walls) is forbidden. As far as traffic outside the City Walls, Dubrovnik is very well covered by taxi service. There are taxi stops on the both sides to the Old Town, at Pile Gate and at Ploče Gate. Phone number of taxi service is 00385 (0)20 970 and it works every day 24 hours a day. It is very useful to know that start of driving is 25,00 kunas (3,33 euro).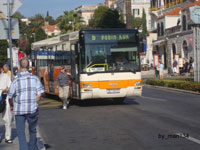 Also, you can use local bus service Libertas. There is bus station on Pile from where most of the bus lines leave for all parts of the city. Ticket price is 12,00 kunas (1,66 euro) and it's valid for an hour. You can buy ticket at any tobacco shop (price 12,00 kuna = 1,66 euro) or in the bus (price is 15,00 kuna = 2,00 euro).
All additional information you can check on www.libertasdubrovnik.com 
Bus timetable Dubrovnik town
Relation:                                        Bus number:
Old Town - Lapad               5, 6
Old Town - Gruž                1A, 1B, 3, 8
Old Town - Gorica Sv. Vlaha    2, 4
Gruž - Lapad                   7
Gorica Sv. Vlaha - Lapad       5
Free number for inquiries and complaints: 0800 1910